One of VITA Digital Productions' unique
Virtual Experience Videos
(All photos on this page are
actual still frames
from this video.)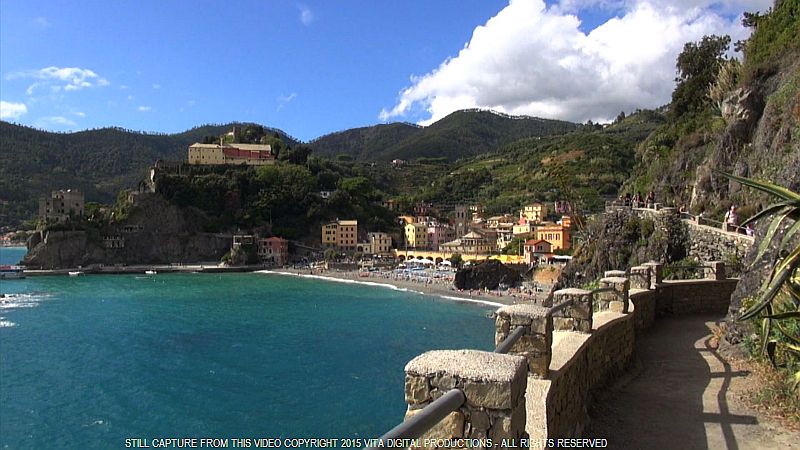 VITA Digital Productions is proud to present its 41st Virtual Experience Video, the
Cinque Terre Villages Walk
,
a 60 minute widescreen virtual walk through five picturesque villages along Italy's Riviera.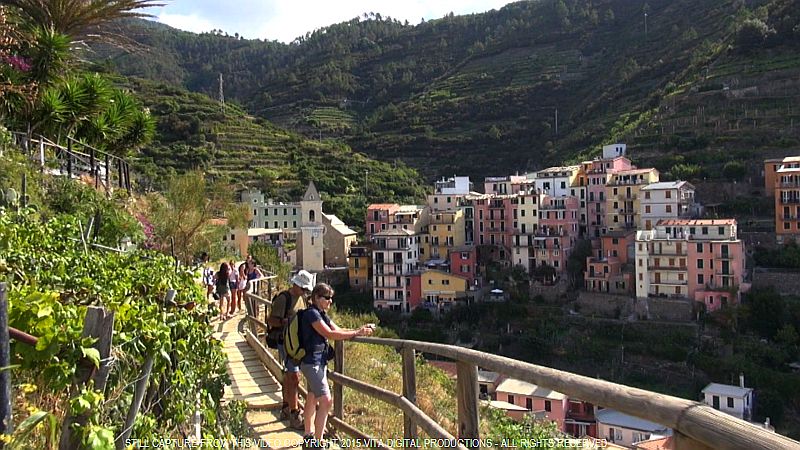 Using either the DVD version or the 720p HD Download you could be instantly "walking" in Riomaggiore, Manarola,
Corniglia, Vernazza, and Monterosso al Mare, the five villages that make up Italy's famous "Cinque Terre."
The time spent exercising on your treadmill will "fly by," you'll exercise longer, and enjoy every minute!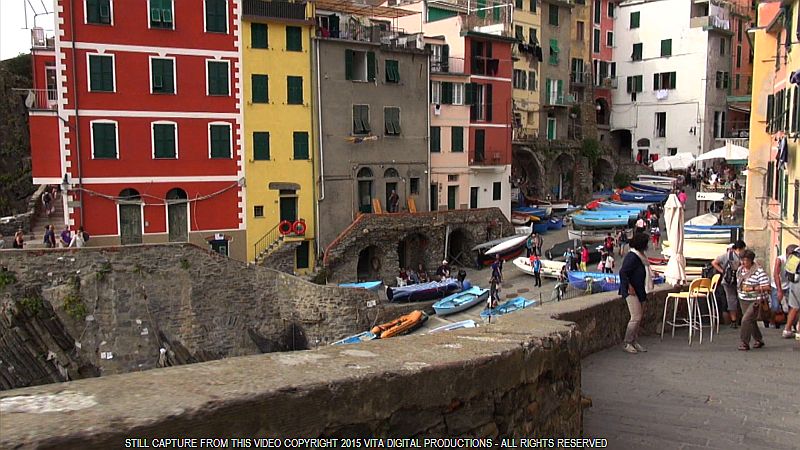 The coastline, the five villages, and the surrounding hillsides are all part of the
Cinque Terre National Park and together comprise a
UNESCO World Heritage Site
.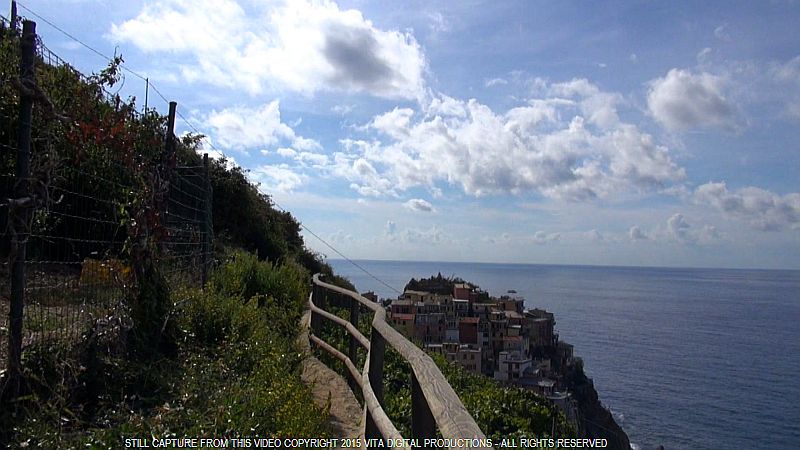 With this 60 minute Virtual Walk Video you'll experience the charm, the beauty, and the history
of this very popular tourist destination.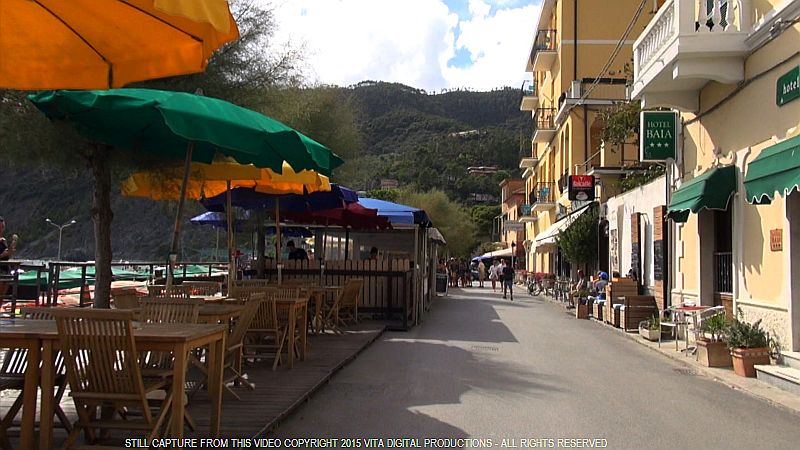 Filmed in Widescreen with a professional High Definition* television camera, you'll enjoy
every minute of your one-hour virtual walk through these five picturesque Italian villages.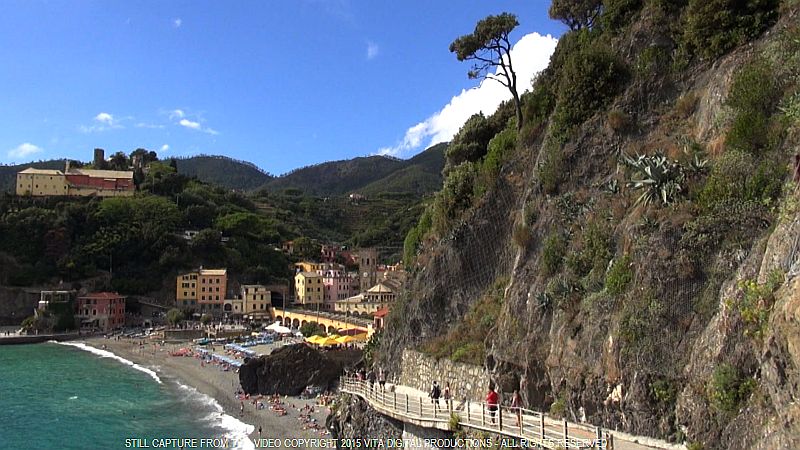 This is not a traditional travel video.
The television camera is constantly moving you forward, transporting you
through the streets, alleyways, and hiking trails of these five timeless villages.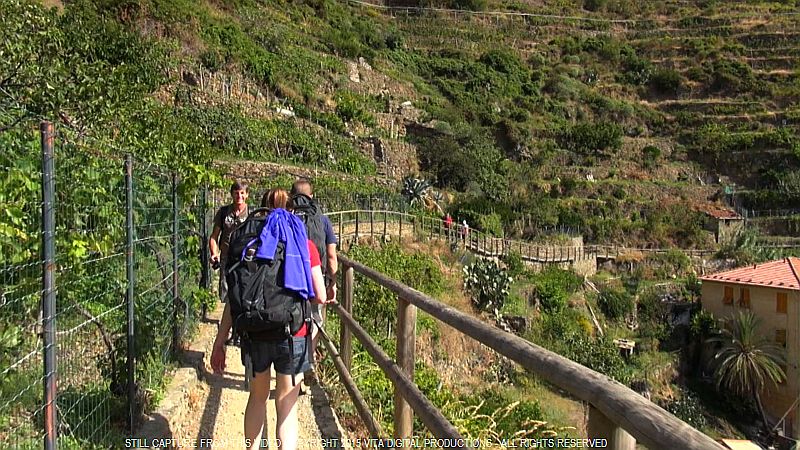 The 60 minute Virtual Walk Video is accompanied by the natural sounds
just as they were recorded in Dolby Stereo in Cinque Terre.
---
Exercising has never been easier or more enjoyable!

Your time spent exercising on a treadmill will "FLY BY!"

And this one hour video is so rich in details
that you will notice something new every time you view it.

But you don't have to own a treadmill
to enjoy this HD Download or DVD.

It also makes the perfect gift for people who want
to experience the Cinque Terre in a totally unique way:
a way not possible with traditional travel videos.
---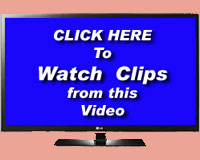 To Purchase this video as a DVD or as a 720p HD Download, please click here.
---

A Detailed Description of the Virtual Walk on this Video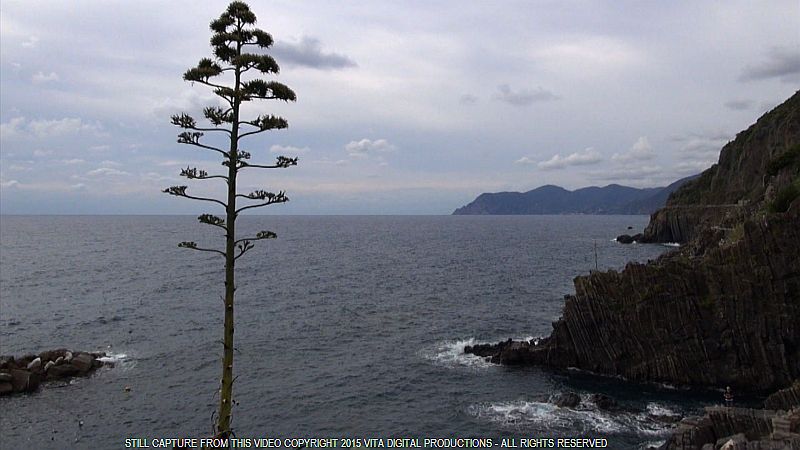 Your 60 minute Virtual Walk begins high on a cliff walkway directly south of the small village of Riomaggiore,
the first of the five villages that define the Cinque Terre.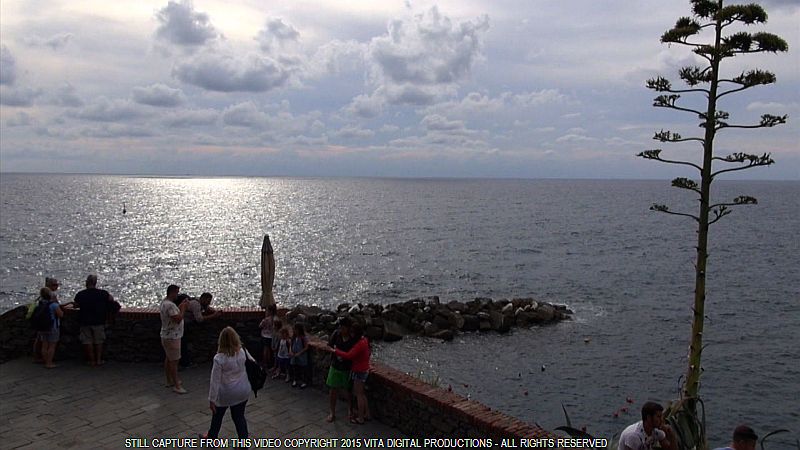 As you descend the stone stairs, you turn to see the families enjoying a delightful September afternoon.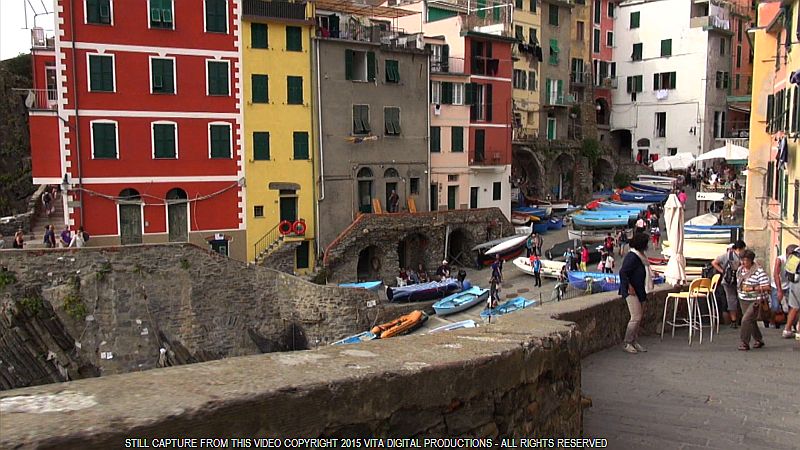 Now you turn northward towards the village which is nestled in a narrow valley.
Fishermen store their boats the only place they can - in the narrow street that runs through
the center of Riomaggiore.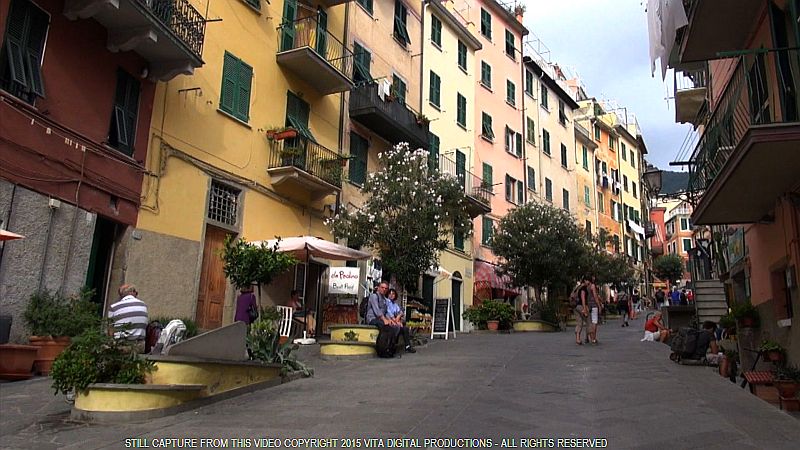 After climbing stairs we enter Via Colombo, Riomaggiore's beautiful primary street.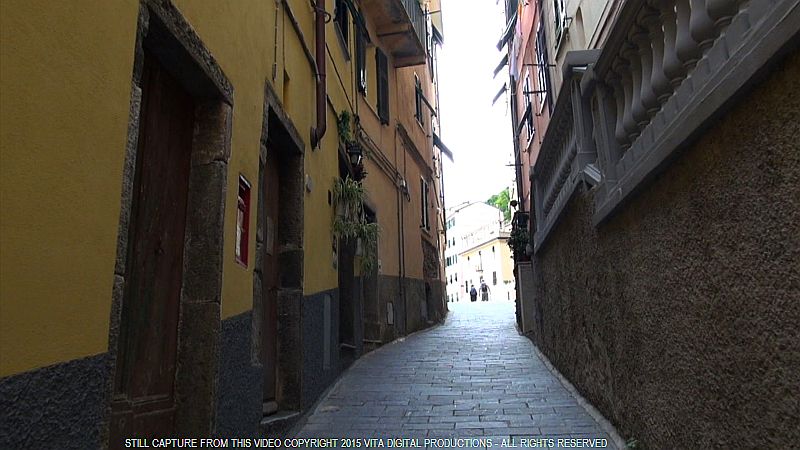 It's an uphill climb but quite scenic as our path first gets narrower...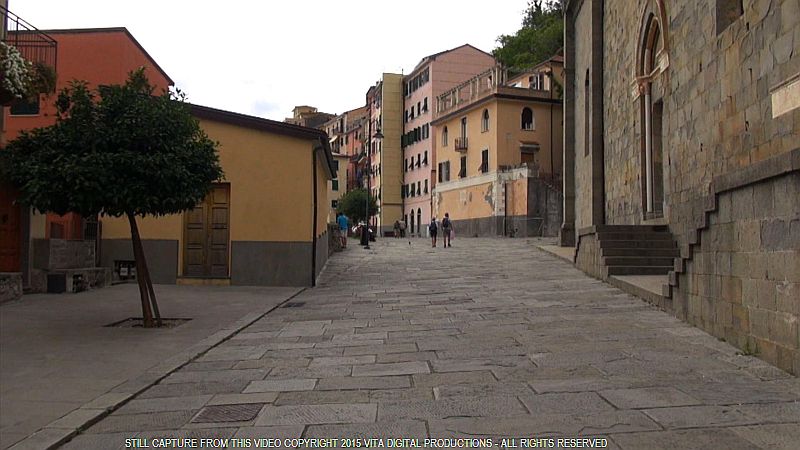 then widens as we pass the Church of San Giovanni Battista of Riomaggiore.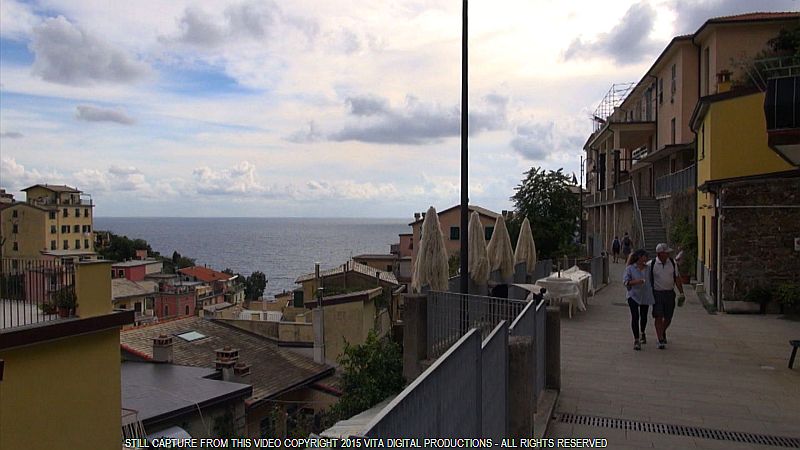 Now we are high above the sea but still in the village of Riomaggiore.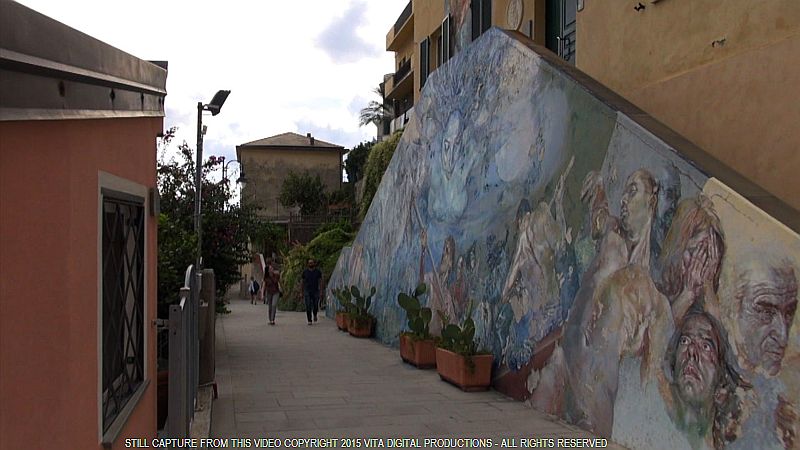 We pass an amazing mural painted on the side of steps....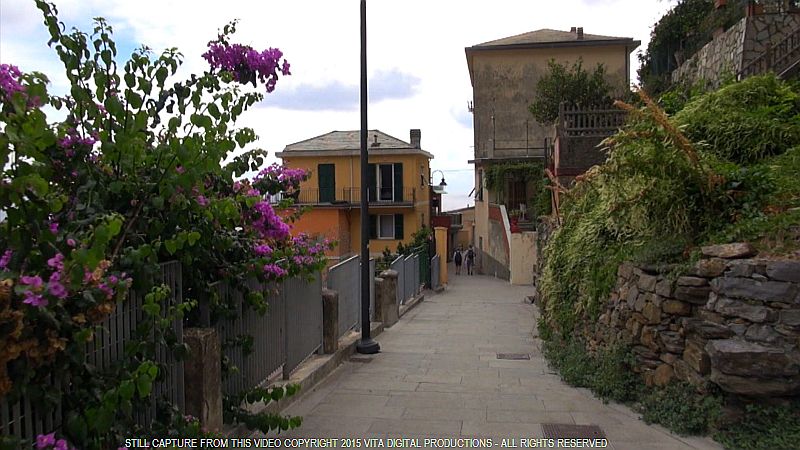 before continuing on through more typical Italian scenery.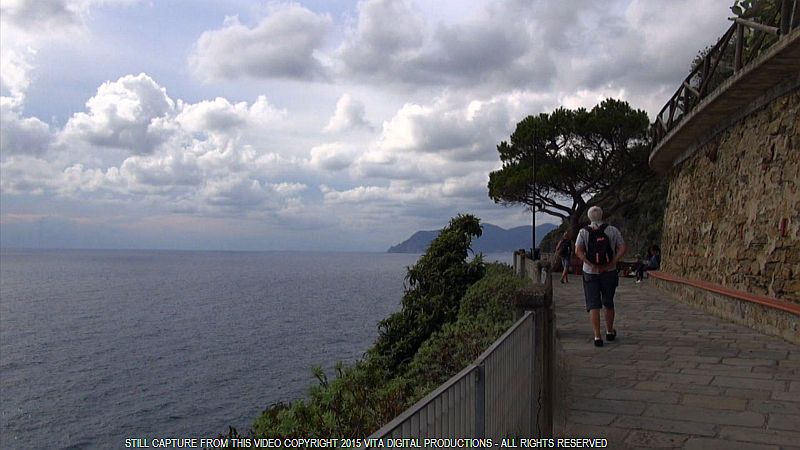 As we leave Riomaggorie, we look northward towards the next Cinque Terre village....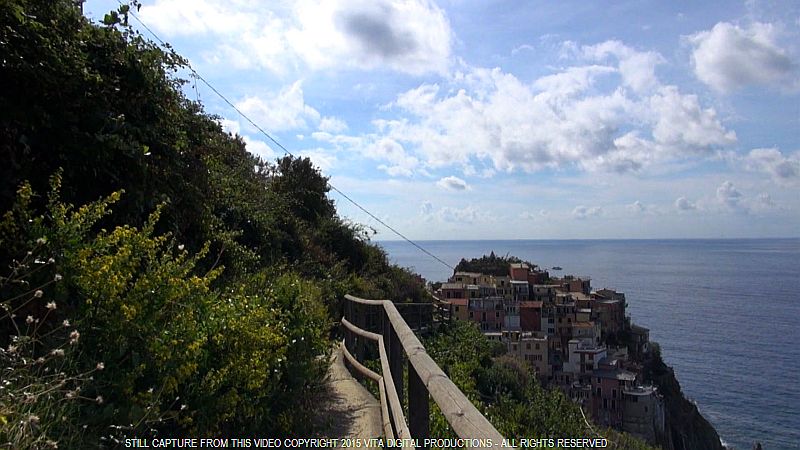 Manarola. This time, for ease of filming, we're walking southward to enter the village.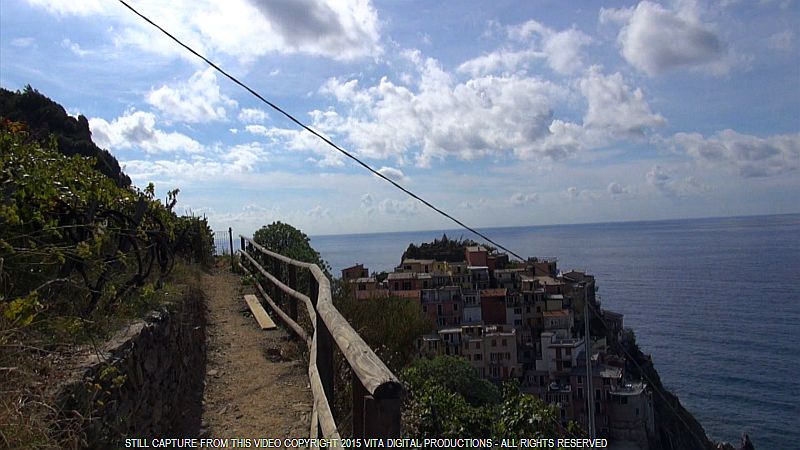 Following the steeply terraced vineyard path which winds around the side of the mountain, we get excellent views of
Manarola - but watch your step, the walkway is treacherous.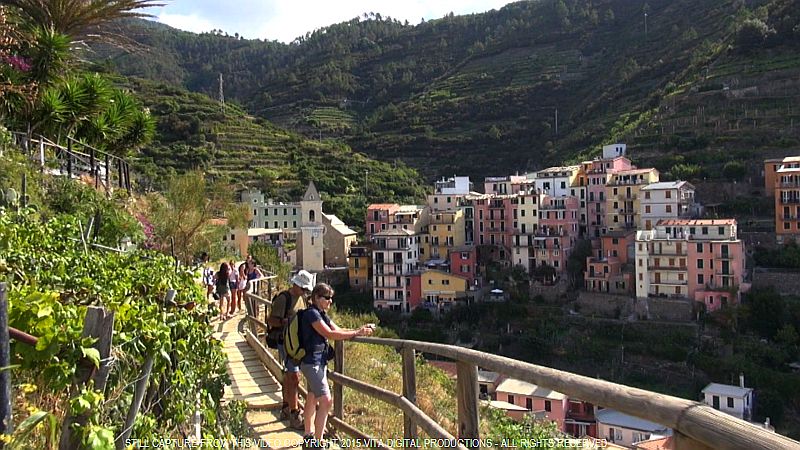 This is a popular path with the serious hikers.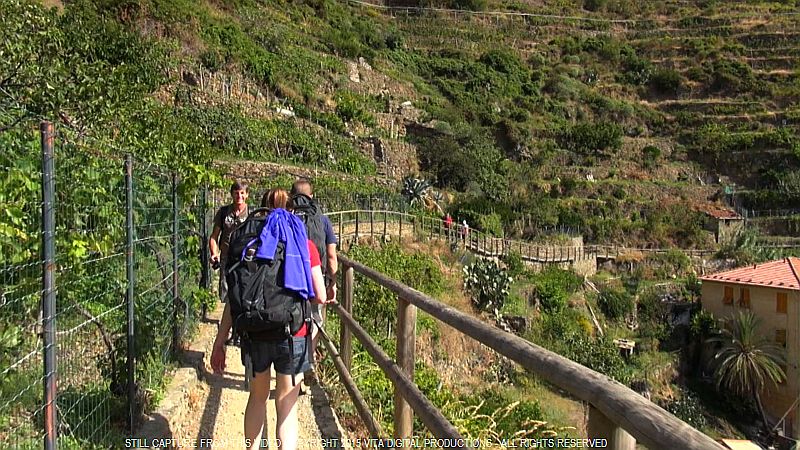 Our path curves eastward, towards the main entrance to the city.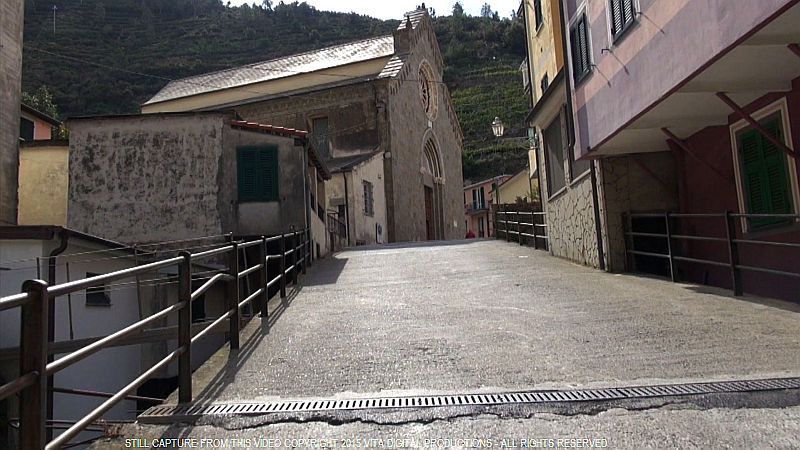 Our path approaches, then passes the Church of Nativity of the Virgin Mary which dates back to 1338.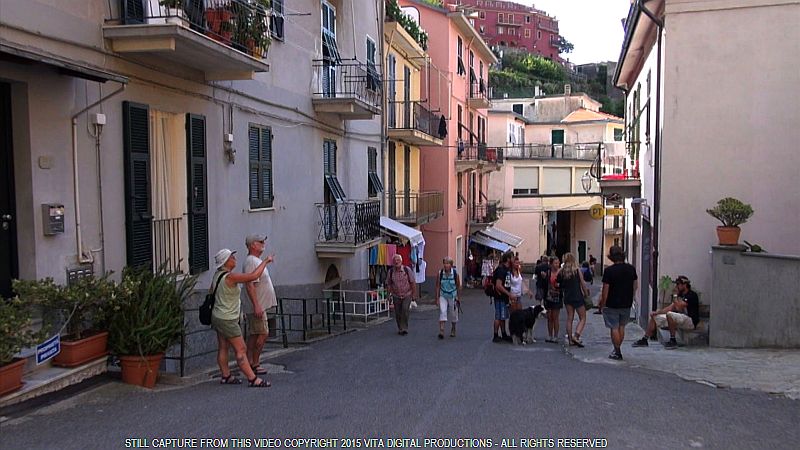 Manarola is the second smallest of the famous Cinque Terre towns.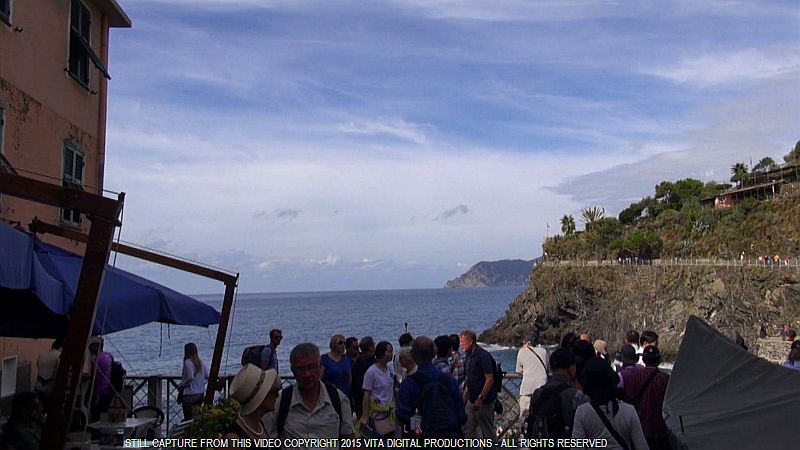 The closer to the waterfront we get, the more crowded with tourists Manarola becomes.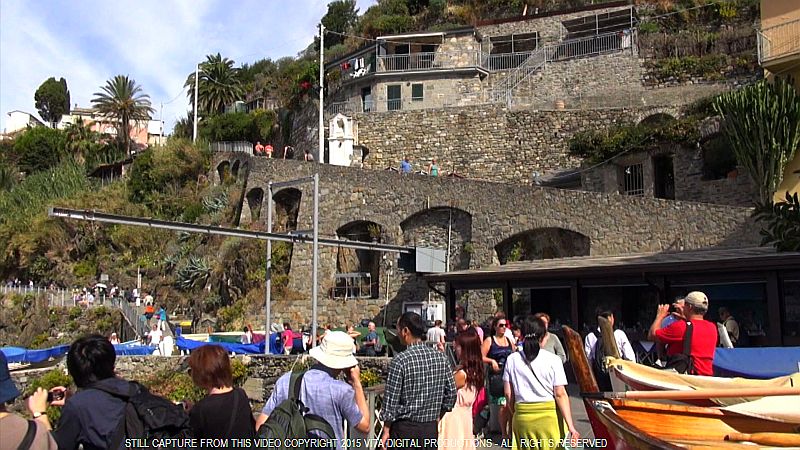 Manarola's primary industries have traditionally been fishing and wine-making, but today
tourism is number one in the summer months.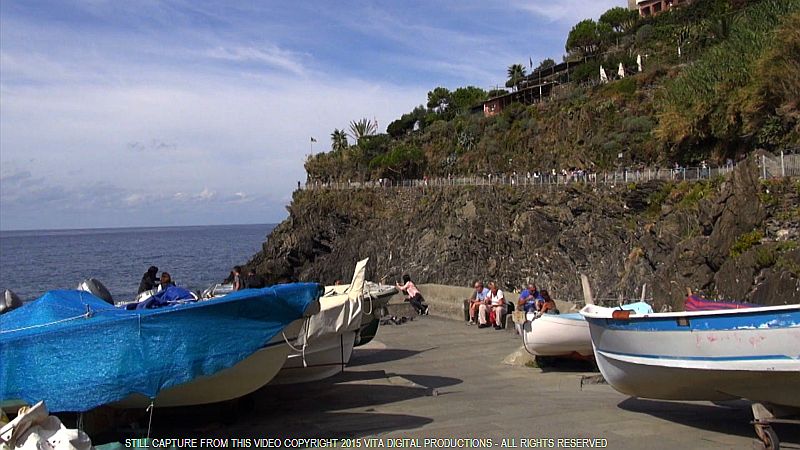 Before moving on to the next village, we pause to admire the busy harbor.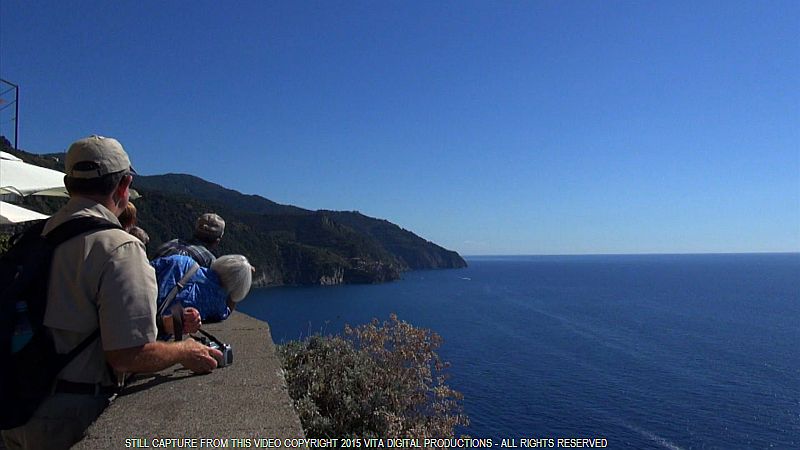 Our walk in Corniglia, the third of the five villages, begins at a terrace overlooking the sea. Unlike the other villages,
Corniglia is not directly next to the sea, but located about 100 meters above it.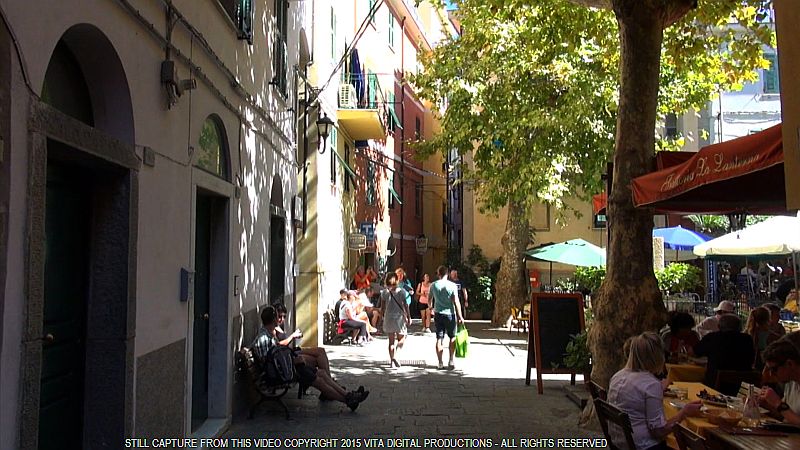 Even from the terrace overlook, it's still mostly uphill through some attractive streets and alleyways.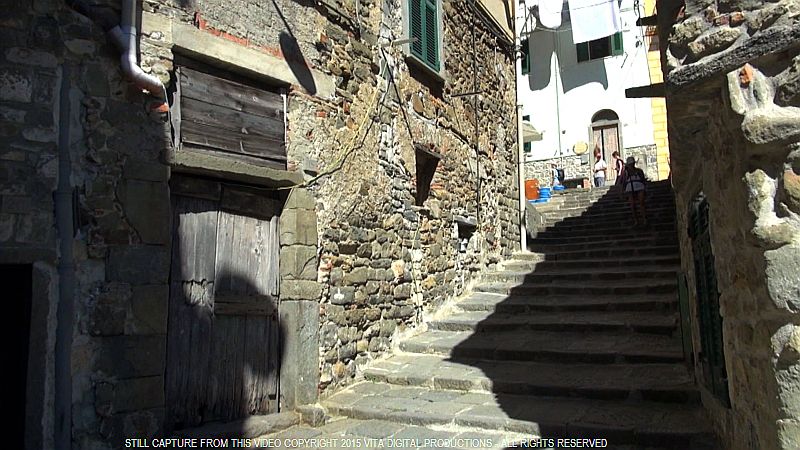 Then up some stairs and turn the corner....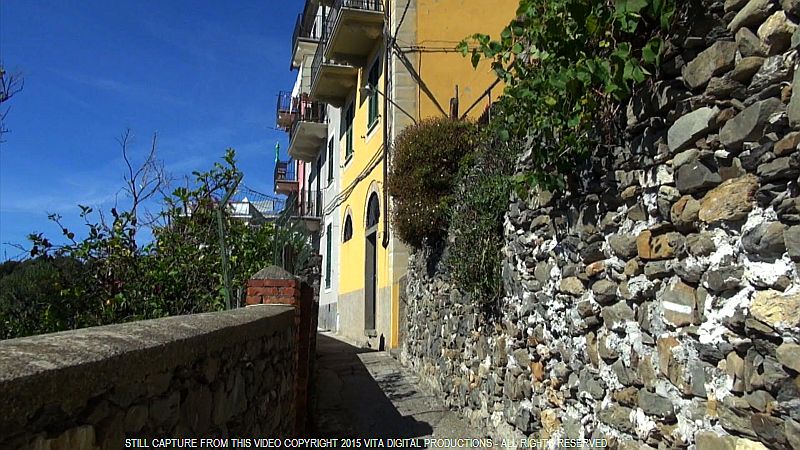 through more narrow walkways....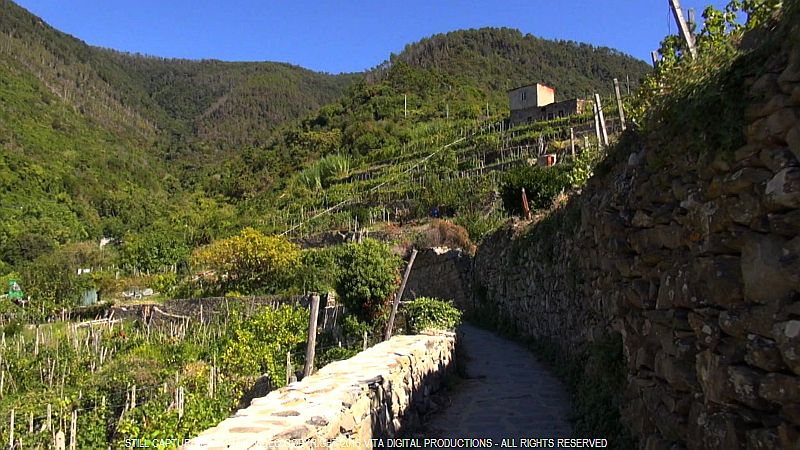 and we find ourselves walking in more steeply terraced vineyards.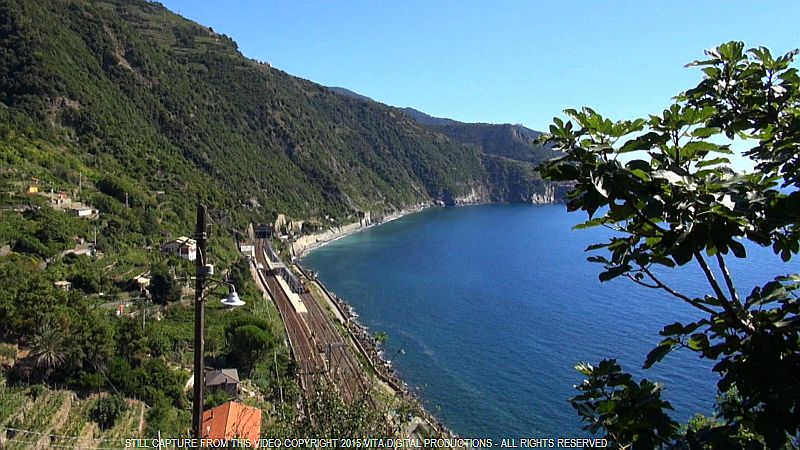 This segment of our walk ends with a view down to Corniglia's train station.
To reach the train station, hikers have a choice of 383 steps down or a 3 mile winding road.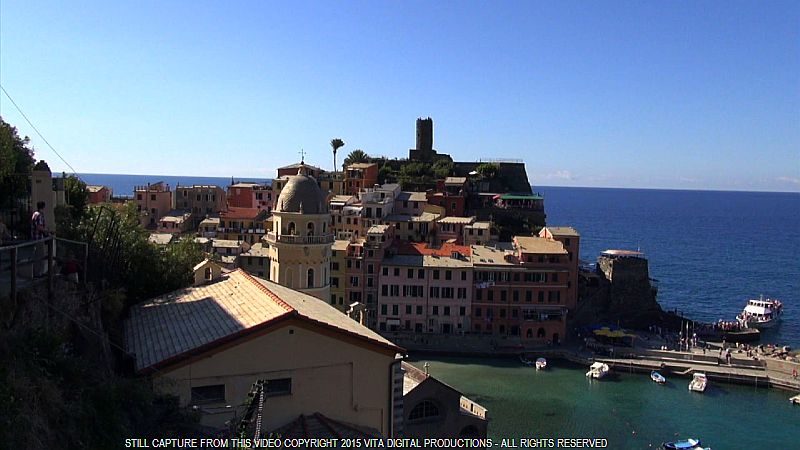 Our first view of Vernazza, the fourth of the five villages, which remains one of the true "fishing villages" on the Italian Riviera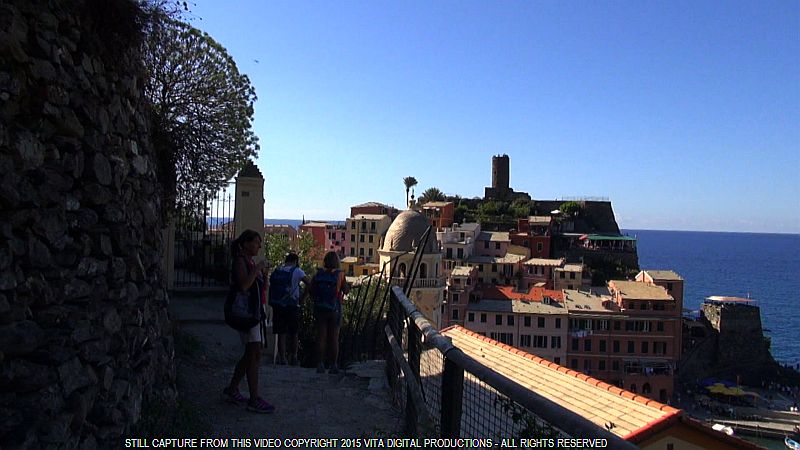 After following another winding mountainside trail....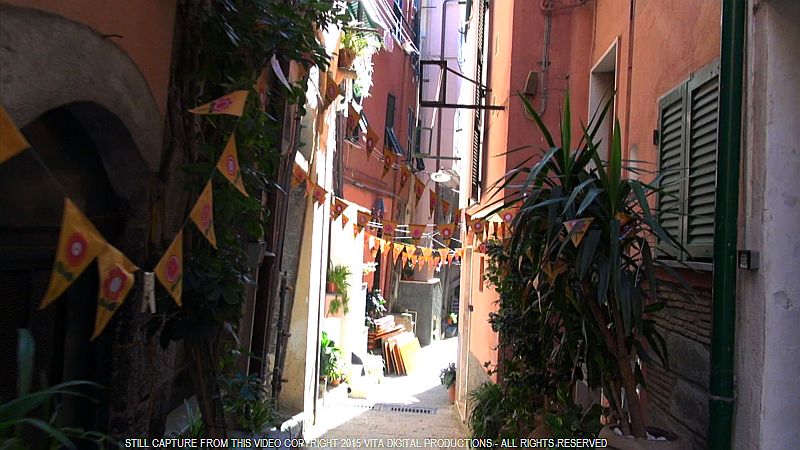 we enter Vernazza through a narrow alleyway.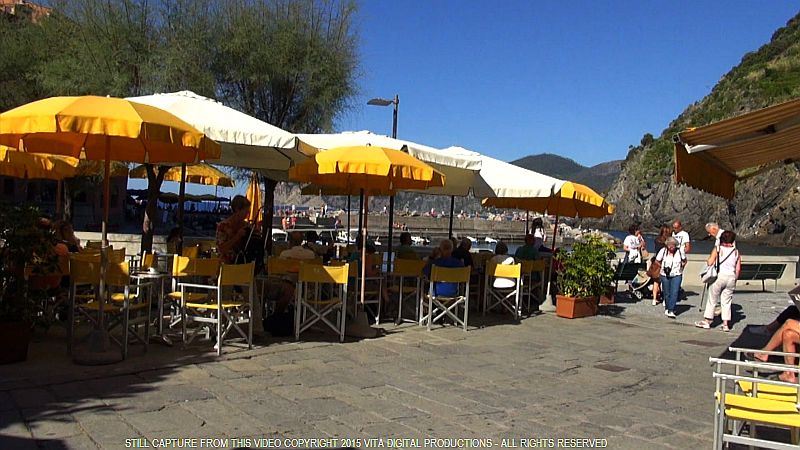 Today, as you would expect, the main source of revenue for Vernazza is tourism.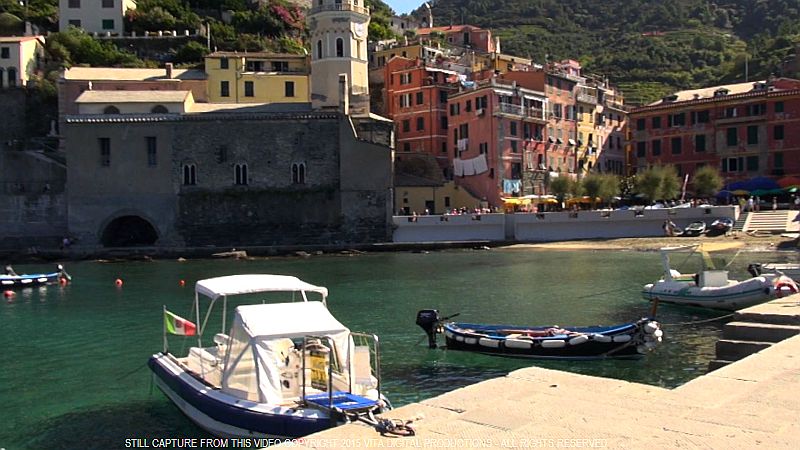 However, fishing, wine and olive oil production still continue to be an important source of income for the village.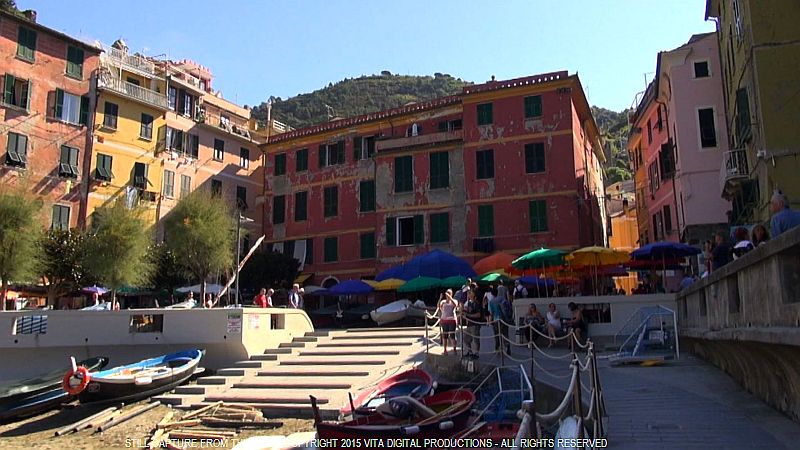 On 25 October 2011, Vernazza was struck by torrential rains, massive flooding, and mudslides that left the town buried
in over 4 metres of mud and debris, causing over 100 million euro worth of damage.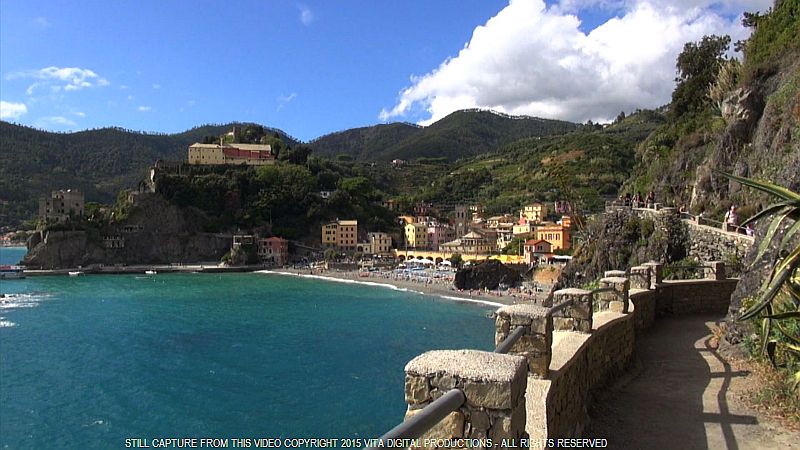 Monterosso al Mare, the fifth and final village that makes up the Cinque Terre, lies ahead.
Actually, "Old Town" is ahead while "New Town" lies hidden behind the rocky promontory on the left.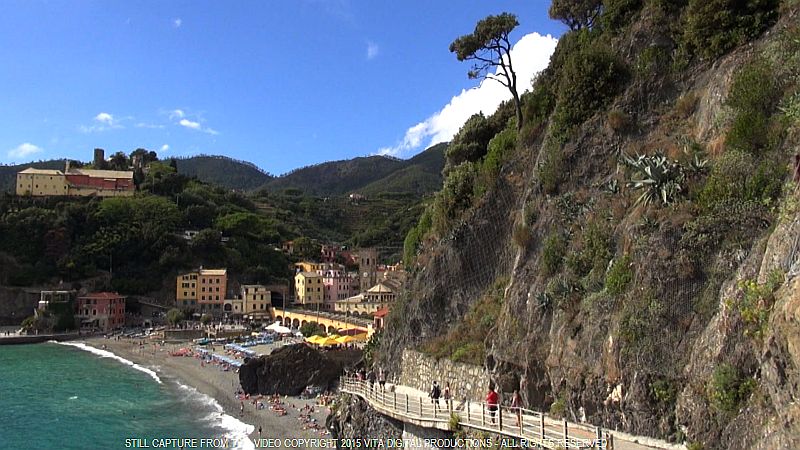 One of the easiest sections of our walk lies ahead - and it's almost all downhill.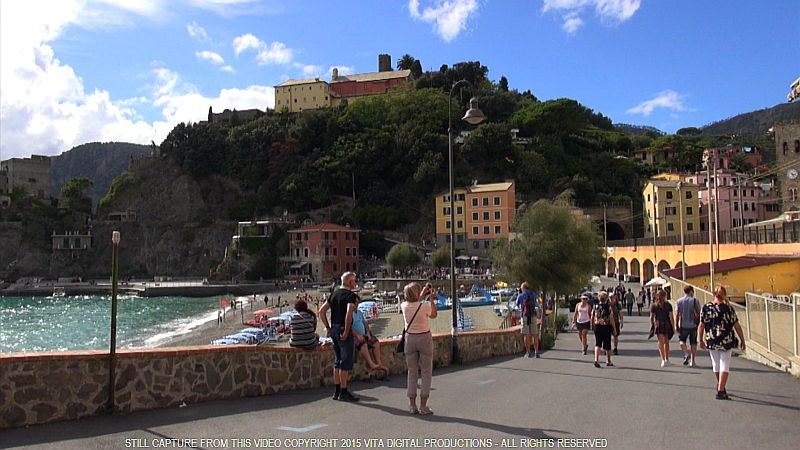 As we enter "Old Town," the walkway gets wider.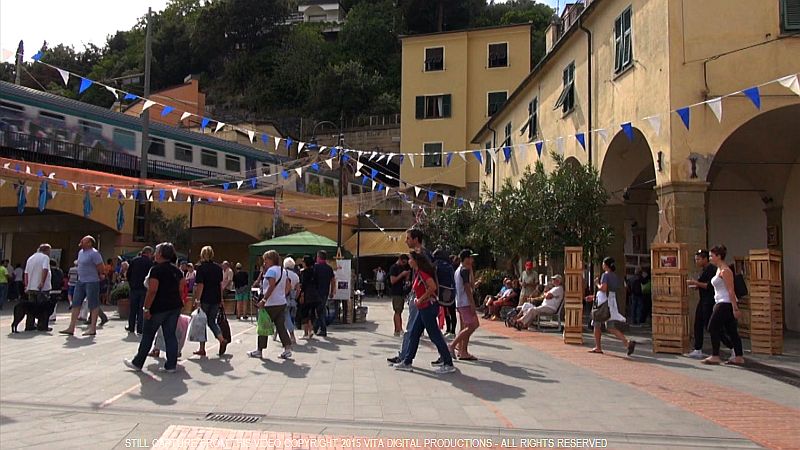 A train rushes by as we continue through "Old Town."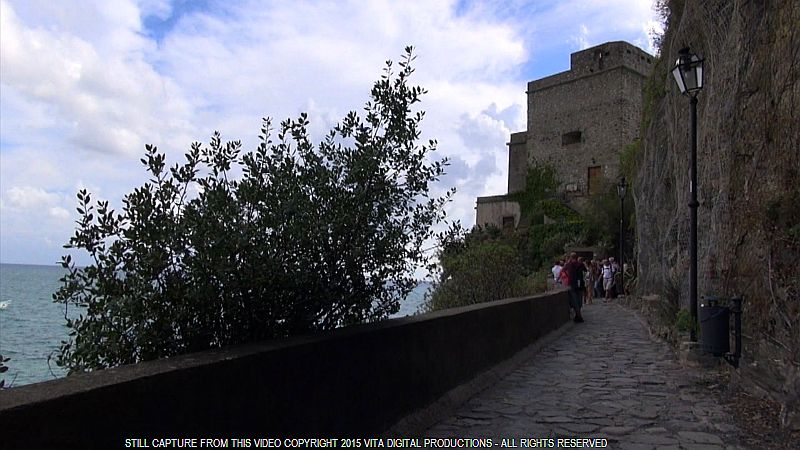 One of two ways to get to "New Town" is up a steep walkway that takes you around the rocky promontory.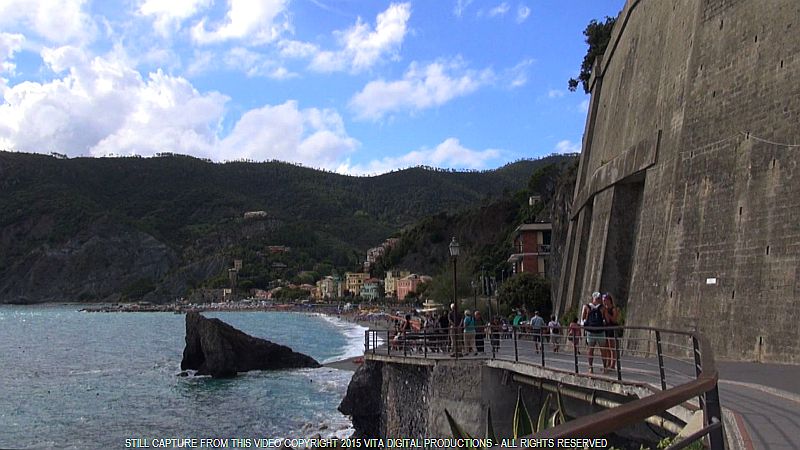 Then it's downhill with "New Town" in the distance.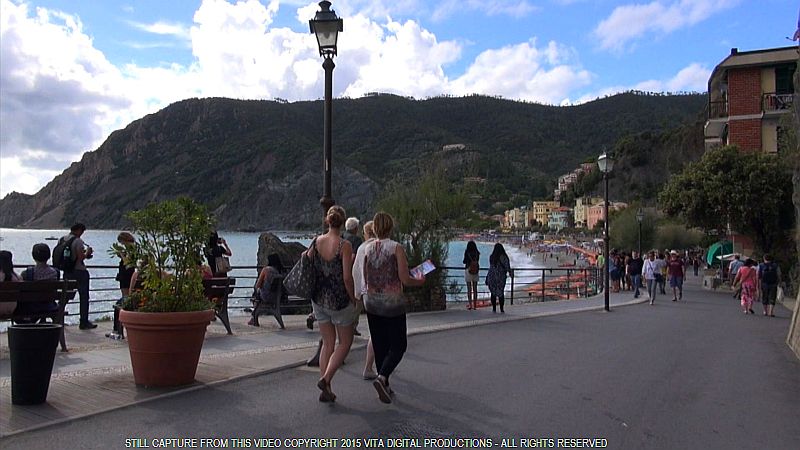 Monterosso al Mare possesses the only extensive sand beach in the Cinque Terre.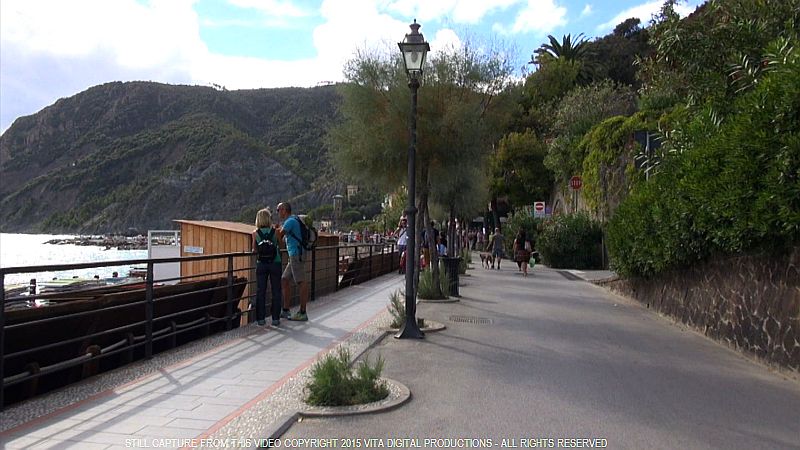 The largest by far of the five villages, Monterosso al Mare actually has a street wide enough for cars.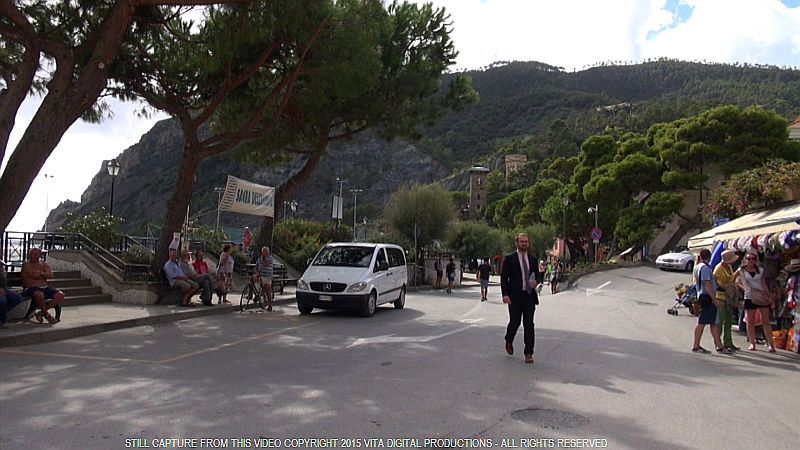 The "New Town" certainly has some beautiful scenery.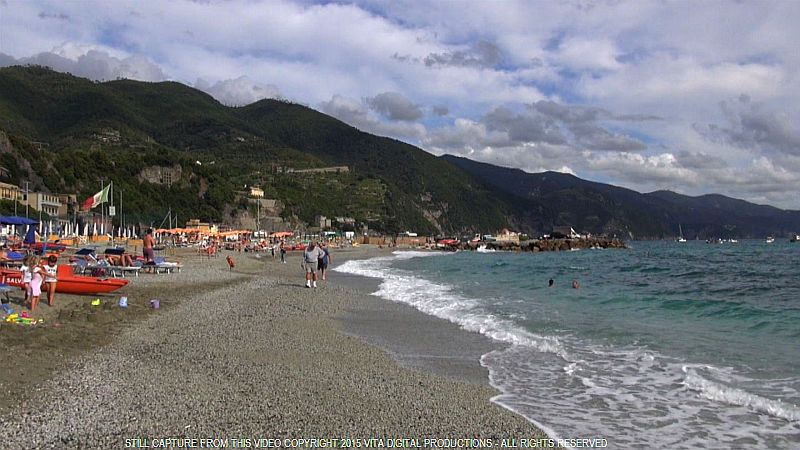 After walking through Monterosso al Mare's "Old Town" and "New Town," our one hour Cinque Terre Virtual Walk
ends on the beach.
---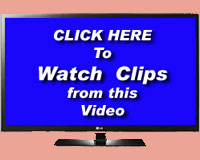 To Purchase this video as a DVD or as a 720p HD Download, please click here.
---
And remember, this DVD makes a unique gift for family and friends!
---
PRODUCTION NOTES:
As you can see from the above stills, from time to time during this walk we encountered numerous tourists
and crowded streets while filming this video.
This 60 minute virtual walk was filmed at an average speed of 3 mph and is accompanied
by the Natural Sounds in Dolby Stereo as they were recorded in the five villages of Cinque Terre.
All of the above photos are actual still frames from this video/DVD.
*While originally filmed in High Definition, the DVD you will receive
is in Standard Definition and 16x9 Widescreen and was
authored at the highest resolution possible.
The DVD was encoded for regions 1, 2, & 4, and is a "burned" DVD which was duplicated,
tested, and verified in our studio before being packaged and shipped to you.
To keep cost low, this DVD is not shrink-wrapped. For a shrink-wrapped version of this
DVD, please
click here to visit our Amazon Store.
The DVD contains an interactive menu and will play on DVD players and computers.
The Download version is in 720P HD and will play on iPads, Computers, Laptops,
and Netbooks using almost any media player. It will also play on Large Screen TVs using
certain devices such as WD Live Plus, X-Box, Roku, flash drives, etc.
Important: Sorry, but the Download version will not play if you burn it directly to a DVD.
---
COPYRIGHT NOTICE:

We are VITA Digital Productions and we are selling this Video Program.
We filmed all of the video footage used in this program, we edited it,
we have licensed the rights to any music used in this production,
and we own the copyright to this program and will aggressively defend it.

The program contained in this DVD and Download is licensed for HOME USE ONLY.
If you intend to use this program in connection with a business of any kind,
such as a gym, rehab facility, etc., you must contact us to obtain a business license
for a small additional fee.


---


Want to read our Cinque Terre Travel Journal? Just click here to read it.


---
Copyright 2018 VITA Digital Productions - All Rights Reserved